Scheduling Systems
Portside offers various flight department scheduling softwares for different types of operations. Whether you are a small Part 91 or a global P135 / commercial operator, chances are, we have the right system for you.
GET A DEMO
Our suite of scheduling products is trusted by flight departments worldwide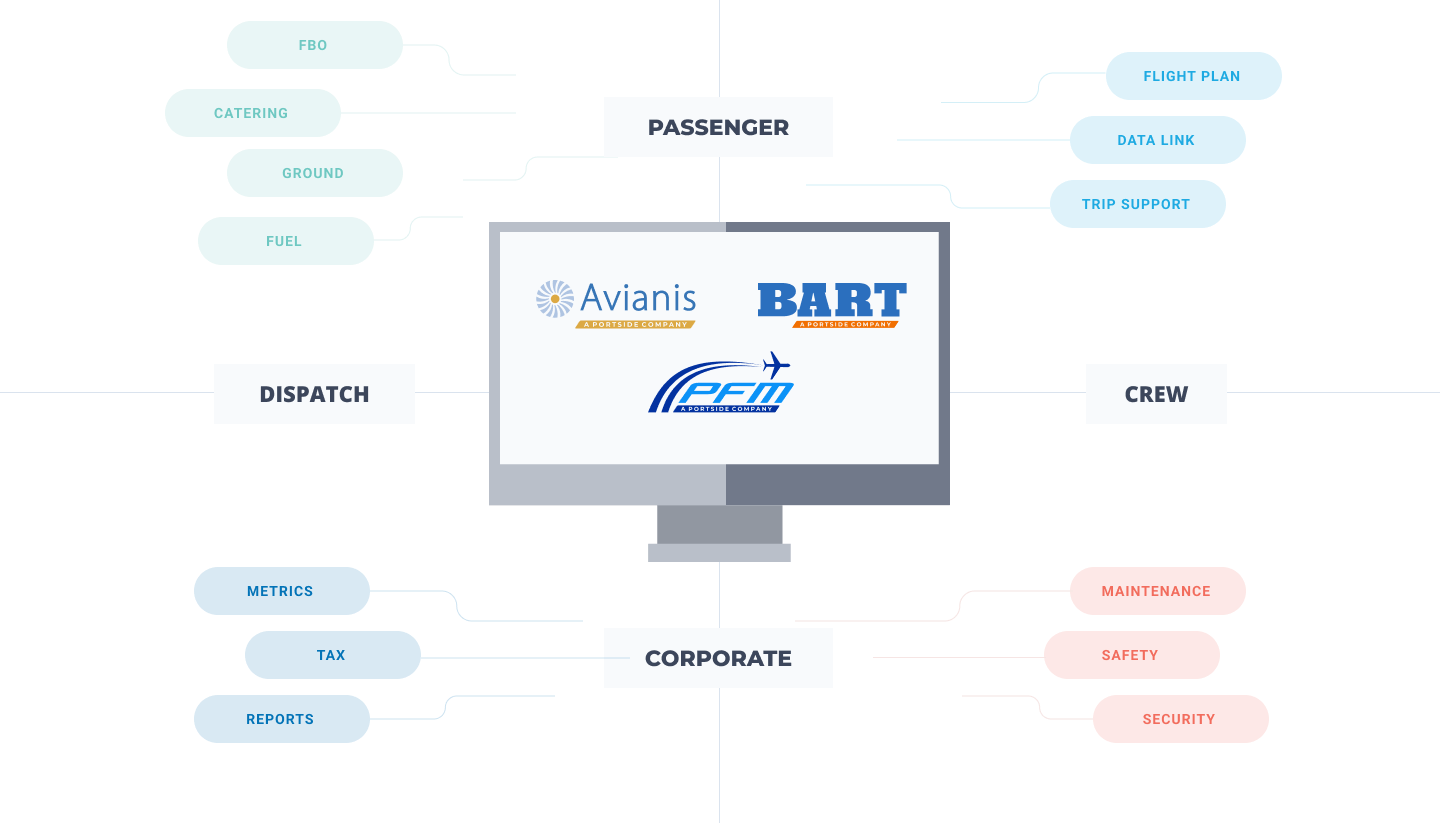 All-in-one enterprise flight management system to propel your operation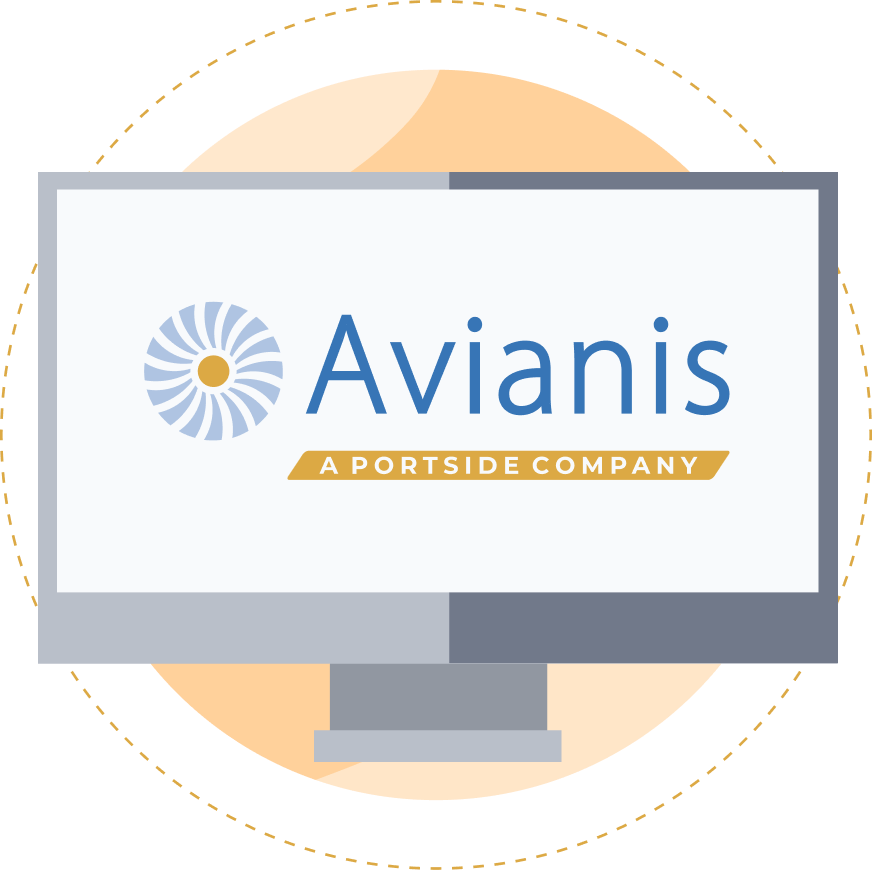 Key features:
Charter Quoting Engine
Expense Management & Invoicing
Flight & Crew Scheduling
Crew Management
Project Management
Business Intelligence & Reporting
Pilot Operations Mobile Application
Maintenance Tracking
What Avianis customers say

Avianis is the premier business aviation scheduling software as a Service. Transitioning from FOS in 2016, we were looking for a system that could scale with our business (now 300+ aircraft) and integrate with our other cloud systems – expense management, accounting, fuel purchasing, fatigue management, SMS, maintenance tracking and the like. Avianis filled the need and provided our team members a simple to use, straight forward interface for ease of access. The ability to access Avianis information across platforms was and remains vital to facilitating efficiency across Solairus. We would recommend Avianis without reservation to anyone trying to achieve similar goals.
The extensive knowledge of the Customer Success team has been instrumental in supporting us as we merged an additional certificate into our existing one within Avianis. Their expertise in both the software and our industry ensured that our implementation proceeded smoothly and tailored to our specific needs. Their dedication to our success made a significant difference in navigating this journey with confidence.
Avianis has allowed us to scale our business and integrate with other cloud systems - expense management, accounting, fuel purchasing, fatigue management, SMS and maintenance tracking. This has led to the ability to access information across platforms which remains vital in facilitating efficiency in a large operation.
The most widely used web-based
Private Aviation Management System
in the world
BART PRODUCT SUITE
Charter Quoting/CRM
Scheduling
Record Keeping
Reporting
CoPilot App
Request System
Shuttle System
What BART customers say

Taughannock Aviation has been a client and partner with BART, a product of Seagil Software, since approximately 2006. Their customer service and support is simply exemplary. Throughout the years, Seagil has continued to invest in and innovate the BART platform, making it, in my view, the best scheduling and recordkeeping software available in the industry today.
---
Mike Horan
President, Taughannock Aviation

I have worked with BART for 30 years. We have taken full advantage of the data in BART which has allowed us to analyze pilot, passenger and aircraft information. We rely on BART for SIFL Reporting as well as other important tax information. The ease in scheduling trips, entering data through CoPilot and the numerous customizable reports BART has to offer has certainly made my job more efficient and made BART a valuable tool in our department.
---
Connie Boyd
Flight Department Coordinator, Masco
Major kudos to BART software! We have just finished our third season using BART and remain in utter disbelief how flawlessly we have managed scheduling and billing our clients! Certainly, it is in great part due to the amazing, personalized, on-going training which comes with the program. Our accountant is likewise thrilled with the professional record keeping at our fingertips. Now, Fuel Lessor Reports and 1099's are a breeze. But, it scares us to think how easy we could have lost money without these specific accounting systems. Well done, Seagil! Thank you. You've made us look real good!
---
GID A. FISHER
Director of Operations, Sky High Aviation, LLC
The premier flight operations management system for corporate, private and managed flight departments
PFM MODULES:
Scheduling
Record Keeping
Reporting
FOCAS Calendar
Ops Console
PFM Mobile App
Request System
Shuttle System
Lobby Status Board
What PFM customers say

Having been a customer for 20+ years, we have always been impressed with PFM's willingness to continue adapting and improving their product to serve our needs. From custom reporting and corporate shuttle booking tools, to iOS App development and flight planning integration, to passenger check-in and our Lobby Status Board, PFM has worked with our organization to develop integral tools that increase our efficiency and allow for improved productivity and enhanced customer service to our passengers.
---
Mike Whannell
Chief Pilot, Jack Henry, CAM
Professional Flight Management has been my constant ally for 30+ years as a corporate aviation part 91 dispatcher. When you operate around the world, around the clock, the last thing you need are software issues. Bill and his team have never let us down and consistently work beyond the edge of what is possible to find us real time solutions to any obstacles we encounter. Their data reliability, redundancy and security consistently pass our infiltration attacks and testing challenges. I would not want to do business with anyone else!
---
Dispatcher
Fortune 100 Company
We have been a PFM user for 20+ years. During that time, their scheduling system has supported our 1500+ flight hour per year fleet of fixed wing and rotorcraft aircraft. The PFM customer service and support staff are top tier. Their support and dedication have allowed us to integrate many safety, efficiency and reporting tools that continue to help us lead the way in our objective of safe, fast and enjoyable transportation in support of our company's mission.
---
Executive Director of Aviation
Fortune 500 Company
Portside Flight Management System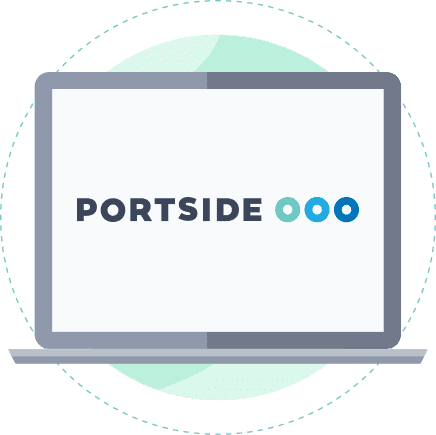 Are you operating a fleet
of over 100 aircraft?
Reach out to learn more about our airline scheduling software for large operators.
Some of Our Customers
Portside supports customers operating 10,000+ aircraft in 30+ countries.