Integrated
Owner Billing
Streamlined, accurate & customizable owner & stakeholder billing for operators and flight departments.
Learn More
Do you produce monthly statements for your owners or stakeholders?
For most of our customers, owner billing is a time-consuming and error-prone process that involves multiple sources of data, lots of iteration to make sure all the data is correct, nothing got double-billed, and no bills were omitted. Portside Integrated Billing streamlines this process.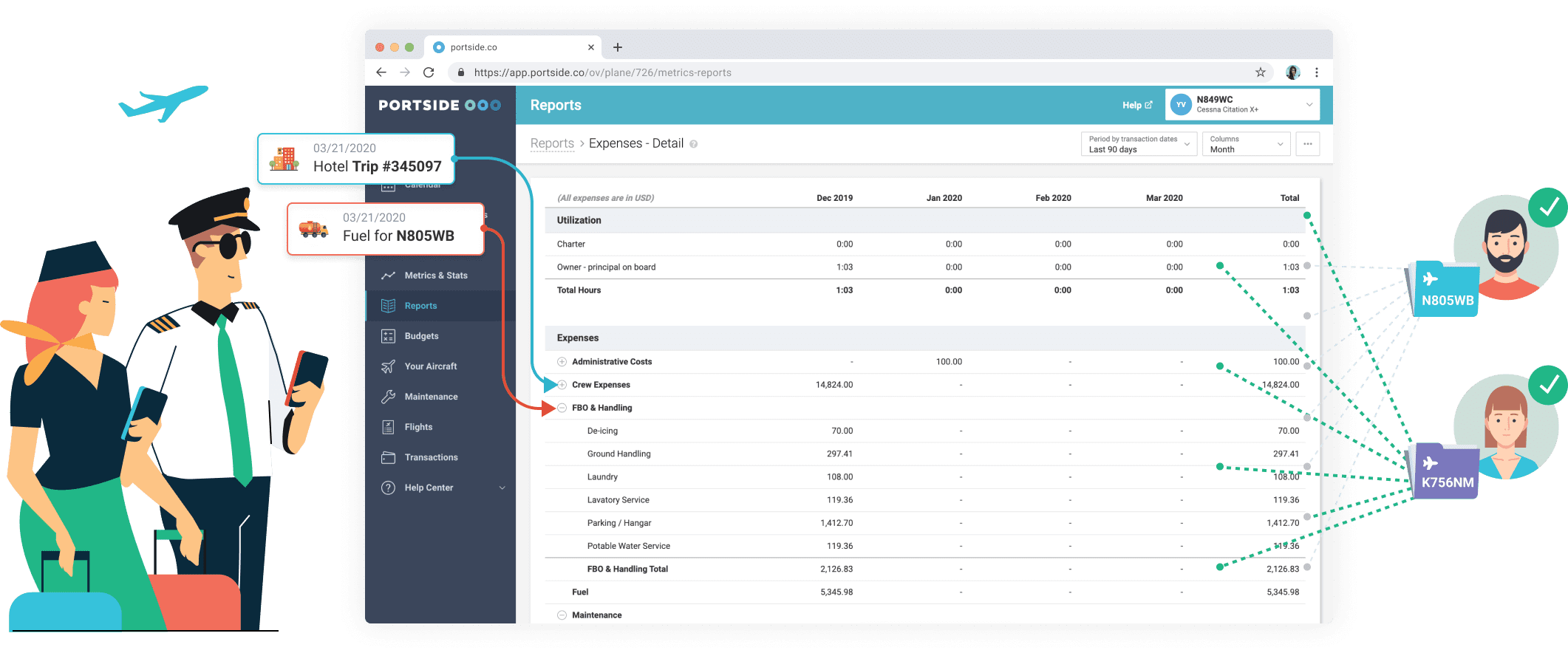 Before
Before deploying the Portside Integrated Owner Billing product, many of our customers would take 7-20 days to close their books and issue owner statements.
After
The Portside Integrated Owner Billing turns this messy, manual, time consuming and error-prone process into a quick monthly close, where you get paid quicker, owners are happy to have accurate, detailed invoices sooner.
Portside integrated owner billing features:
Part 91 & Part 135 with advanced handling of cost of sales, mark-ups and discounts
Portside standard monthly statement that can be deployed in less than a week
Branded statements can be customized for each owner
Utilization, charter, fuel and trip log reports integrated into the monthly statement
Support for multiple accounting and scheduling systems
Custom categories and chart of accounts for each aircraft
Multiple payment methods including ACH, wire and credit cards
Multi-currency billing or customers who bill owners in more for one currency)
Publishing controls you are in control when the bill is released to the owner / stakeholders
Owner notifications trigger manual or automatic notifications when the statement is ready
Simplified billing enables you to publish your own statements to the owner
Integrations
Portside supports customers on multiple scheduling, accounting, maintenance and expense management systems. If you do not see your system listed below, please reach out - we may already be integrated to it, and if not, can probably add an integration in a few weeks.
Custom systems used in the US, Europe and LATAM
Custom systems used in the US, Europe and LATAM
Custom systems used in the US, Europe and LATAM
Integrated Owner Billing
Contact us to learn more or schedule a demo
We work with operators of every size around the world, and would be happy to learn more about your operation & discuss how we could help.
Contact Us
Some of Our Customers
Portside supports customers operating 10,000+ aircraft in 30+ countries.