Portside
Owner Portal
Easily share flight, accounting and maintenance information with owners and stakeholders.
Learn More
Calendar
The Portside Owner Portal includes a sophisticated, highly configurable calendar, which can be tailored for individual owners, multi-owner aircraft, corporate flight departments, industrial customers, etc. In addition to seeing real-time flight data, customers can also see maintenance and crew events, block "no charter" time on the calendar or request flights. We also support custom workflows for dozens of customers.
Reach out to us to learn more.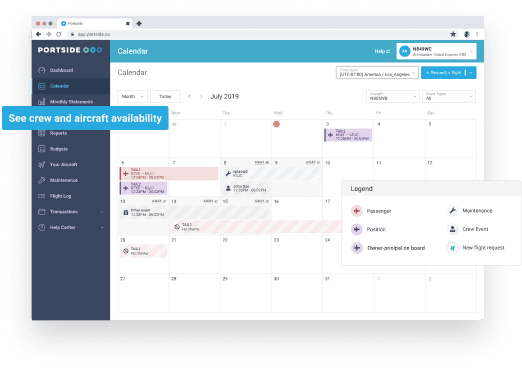 Flight request
Owners, admin assistants and other members of the team can submit flight requests and ensure that all the travel details are captured correctly. This electronic process also simplifies the document collection process. Operators can be notified about flight requests via email, SMS, inside Portside or via direct connection to the OPS system. Portside is integrated into most OPS systems.
Read more here.
Financial & operational reports
The Portside Platform ships with dozens of commonly used financial and operational reports. You decide which reports are most relevant to your owners and stakeholders. Owners can easily drill down into the data and gain insights into aircraft operations that were previously difficult or impossible to get. All reports can be exported to Excel or PDF for additional analysis and are always "client ready".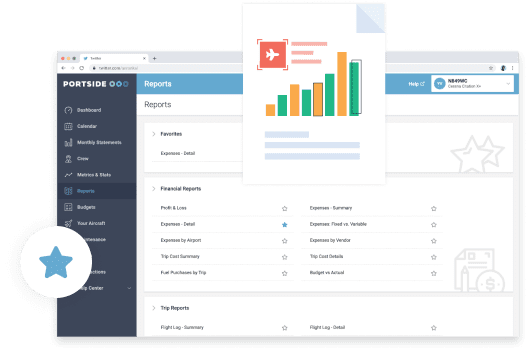 Metrics & analytics
Portside ships with over 50 pre-defined dashboards that are used by our management company and flight department customers and their owners all over the world. Visually stunning, easy to understand, and fed by real-time data, these dashboards can be configured to fit the needs of every owner. You decide what metrics are most relevant to your owners.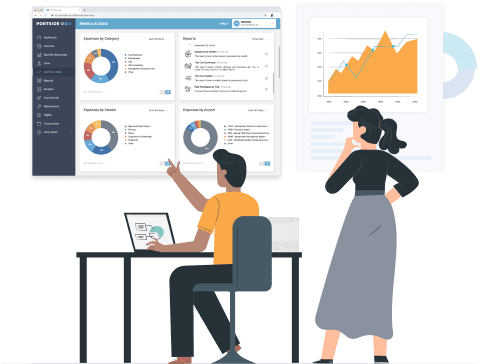 Financial transactions
If your owners need access to detailed billing information, you can now easily share detailed expense and revenue information, including receipts and transaction classification. Owners and their teams can filter, group, sort and extract data for additional analysis. Portside is integrated into most common accounting and expense management systems.
Read more here.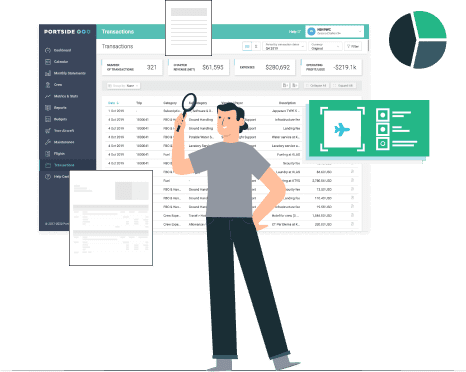 Budgeting
You can create as many budgets as you need for each aircraft, and can budget on a monthly, quarterly, or annual basis, either at a high or low level for each category of expense. While most of our customers have the same categories for all aircraft, many maintain different charts of accounts for each. Our flexible budgeting tools support custom categories for each aircraft. Portside Budgeting also enables you to customize and run budget vs. actual reports, include variances, summarize on a quarterly and annual basis, and distribute reports to your stakeholders.
Maintenance
If your owners need more maintenance data, such as information on when maintenance has been scheduled, what maintenance is coming up, as well as potential costs, you can easily share "do list" and work order items with them, as well as share larger maintenance events on the calendar. Portside is integrated with most maintenance tracking systems.
Read more here.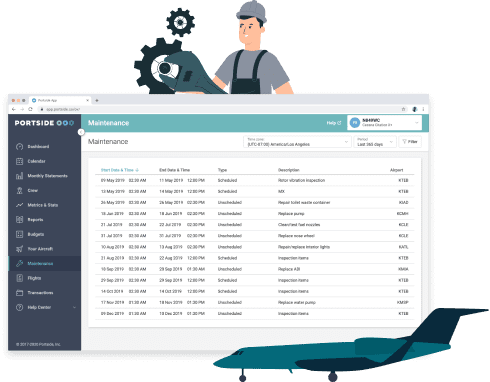 Documents
Now you can easily share aircraft, crew or maintenance related documents with your owners and shareholders. Certifications, warranty, maintenance and engine program, as well as passenger and crew documents is now available to your owners and stakeholders.
Tax reporting
Do your owners or stakeholders need detailed flight data for tax purposes? The data you need is in Portside, and can be easily shared with your stakeholders. They will have all the backup that they need to support accurate tax filings and any audits.
Custom analytics and reporting
If your owners ask you for custom reports or analytics, you can now easily deliver it to them. Reach out to your Portside account manager for any help with developing custom metrics and reports.
User specific settings
You may create as many users as you need. Some might have access to all the data, some just to the calendar, some just to financial information. You are in control of who sees what.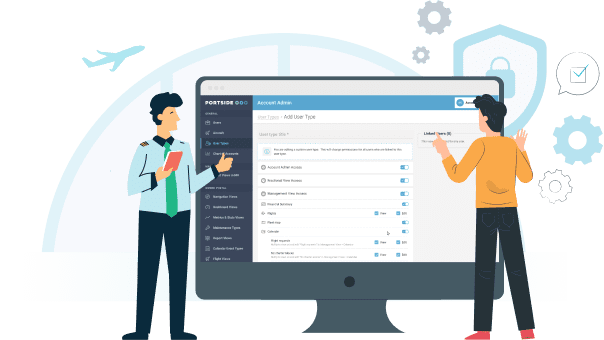 Integrations
Portside supports customers on multiple scheduling, accounting, maintenance and expense management systems. If you do not see your system listed below, please reach out - we may already be integrated to it, and if not, can probably add an integration in a few weeks.
Custom systems used in the US, Europe and LATAM
Custom systems used in the US, Europe and LATAM
Custom systems used in the US, Europe and LATAM
Portside Owner Portal
Contact us to learn more or schedule a demo
We work with operators of every size around the world, and would be happy to learn more about your operation & discuss how we could help.
Contact Us
Some of Our Customers
Portside supports customers operating 10,000+ aircraft in 30+ countries.